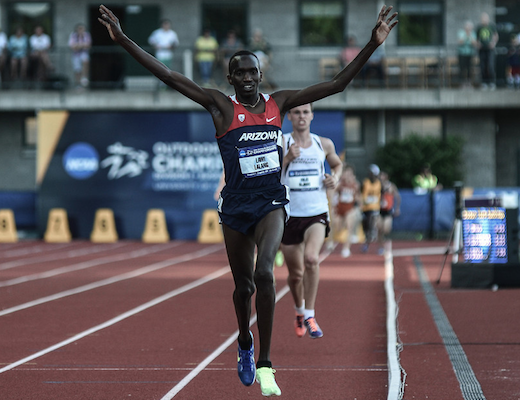 Lawi Lalang signs with Global Sports Communication Former star of the University of Arizona, Lawi Lalang, signs... http://t.co/7tjQsx4qDE
— Global Sports Comm (@GlobalSportsCom) 17 Giugno 2014
WHO IS LAWI LALANG??
. .. a short recap of his career in last years..
In this photo (from all-athletics.com ) u can read the personal bests of LAWI LALANG on the left and his season best in the NCAA season just finished!!
Would like to give my public thanks to Lawi Lalang because he gave the these little podcasts even if sick!!..thanks again my friend and a very quick recovery!!
Jurrie VanderVelden of GlobalSports
gave me this official statement about their agreement with the guy:
"We are very happy to start working with Lawi. Usually we scout youngster and start working with them from juniors onwards and guide and develop them to high senior levels. Coach Li already worked with Lawi for a number of years and guided him through a Fantastic NCAA career and now it's up to us to guide him further. I strongly believe Lawi has the ability to reach the highest level."
To follow the decision about which shoes company!