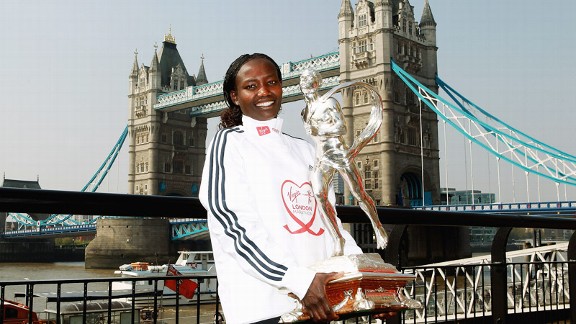 On Friday morning from emirate of Ras Al Khaimah there will be the international and famous HalfMarathon,probably the fastest half in the world.
LAST YEAR we had the world record of Mary Keitany who won in 1h05'50 after an amazing race while in men Deriba Merga won in 59'25.
This year Keitany will be at the start again, having a very good feeling with arab half:i have contacted her some days ago and she told me:"I am satisfied about my training,i am not in same condition as last year.This is normal because i was married at 31th December and so i didn't train so strong as last year.RAK is still an important moment of my season because i will understand my condition on the road of LondonMarathon scheduled on 22th April.I will want to run in London under 2h19',after that i will hope to be selected for Olympics and then train good to be on podium or better gold medal in marathon".
In my opinion Mary Keitany,even if not in same shape as last year it the favourite of the women race.Against her, the best name will be Caroline Kilel Cheptanui:winner of BostonMarathon 2011 has run one month ago in Houston an half in 68'28" very close her PB,she is preparing Boston also this year so..pay attention to Caroline.Some other girls really interesting behind with Hilda Kibet and Feya Tadesse to lead the group.In my opinion outside of this group Aniko Kalovics seemed far from her best condition in this 2012.
MEN RACE:
Without making mistakes,i can see nobody stronger than Geoffrey Mutai and friday morning he demonstrates it!!
Boston and NewYork 2011 winner know this course having won in 2010 and he is able to run incredibly alone so i will expect from him something amazing!!
Second name to underline..Wilson Kipsang runs his PB on half right in RAK in 2009 when he clocked 58'59":he won two incredible editions of FrankfurtMarathon and he is preparing for LondonMarathon where he will hope to run very very fast...so declared by his coach Renato Canova last 31/12 at my microphone!
Don't forget Wilson Chebet and Bernard Kipyego a very good marathon-runners and they have talent to say something to the race.
Speaking about ethiopians my preferred name for Friday will be Tsegay Kebede:last test for him before LondonMarathon,rumors say he will in good shape so it will correct to wait a good result from this expert athlete.
In a race with ten people under 60' as PB ,it is interesting speaking about a possible surprise and my name is Dennis Kipruto Koech.This guy,first time out kenya have 61'30 as PB altitude;in last months won several races in Kenya like Nairobi HalfMarathon,Eldamarafine HalfMarathon and some cross country races..he comes from Kapng'tuny and he trains with the same group of Geoffrey Mutai....what a coach!!..
As ever an incredible race who will surely rewrite season top lists as usual last year!!
Segui @albertostretti